Schroeder Shorts
(Continued)



Nancy Sheck (Jack's daughter) is busy with a knitting group at a local church. They make caps for babies, lap robes for veterans in nursing homes, and blankets for the pregnancy center.

She is also going to the John Campbell Folk School in North Carolina to take a class on Mountain Homespun. She will learn about shearing sheep, carding the wool, and everything else it takes to make it into yarn.

Karl Schroeder has a new address:

802 Coxswain Way #106,
Annapolis, MD
21401-7805
Mark Schroeder (Jack's son) has a new email address:

markwschroeder@cox.net

Jim and Stephanie Bahr (Jack's daughter Nancy's daughter) have moved to:

1516 Prospect Drive
Chesapeake, VA 23322
Their new email addresses are:

Jim Bahr - jdbahr@hotmail.com
Stephanie Bahr - nsbahr@hotmail.com

Lloyd Foss Jr (Carolyn's son) sold his airplane after 14 months on the market in November. He has also decided to stop flying for insurance purposes after 24 years of enjoying the wild blue yonder.

Bridgit Foss (Carolyn's son Lloyd's daughter) celebrated her first birthday June 6, had a party on the June 8'th with family and started walking this past week.

Rumor has it there will be a Schroeder wedding in July but is has not been confirmed.


Ask Katie (Advice for the under 5 Set)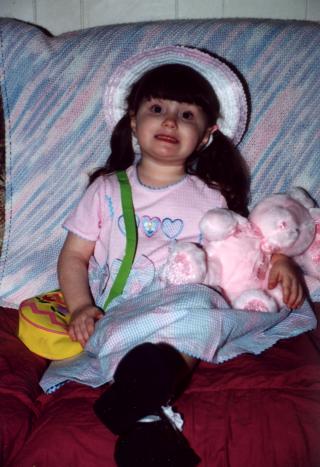 Dear Katie,
I have monster problems. I move around a lot from toy room to toy room but this monster is following me. First he growls right behind me. I look but he is not there. Then he gets mad and becomes real stinky. He is behind me a lot. I think my mommy is scared of him too cause she puts me in another room. But she can see him cause she always yells his name which is 'Phew!'. Also he is short because he never follows mommy and me to the new pants table. But it is time to get rid of this stinky smelly guy. I can't out run him. What should I do?

Signed,
Much ado about Phew

Dear Ado,
I get many monster letters (There are 101 different types) "Phew" is known by all. First get your facts right. Yeah, he is short and smelly and noisy and fast but mommies are not scared of them. The new pants table is magic and gets rid of "Phew" and mommy knows this is so. What you do when "Phew" starts scaring you is stick real close to the mommy. Follow her from room to room and stay close. This somehow makes the mommy put you on the magic table. Don't worry, remember "Phew" is short. So as you get to be a big kid then he goes away forever. Good Luck.

Ooh I see something that I can reach and I do not know what it is but I am going to try to eat it!

Bye-Bye,
Katie