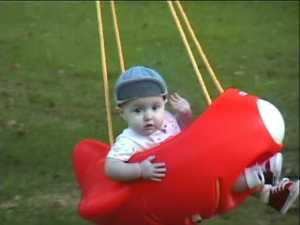 Dear Katie,
I have a decorating problem. Every night I go into the food room and put things where things look pretty. The soft plastic bowls and tops I put on the brown floor all nice but a little of each. For musical joy, those pots and pans come out easy and sound happy. Add some towels for color, and one or two big spoons. I am happy then to go watch people trapped in the TV box, come back only to see my mommy grownup put it away. Why? It took a lot of time to do. Why?
Signed,
Creatively Crunched
Dear Crunchy,
I too love art (call me crayon crazy). And know an answer for you. Remember the grownups are big and they get ouched if they fall on your decorations. There feet are very big (I can get six blocks, four round things and duck in the daddy tall shoe - makes it easy to carry to the next room) So they put it away. Decorate under the food table. So grownup feet don't get hurt. Also try new things. I tried crayons. Yellow is yummy. See you in Paris some day?
Ooh I see something that I can reach and I do not know what it is but I am going to try to eat it!
Bye-Bye,
Katie
Dear Katie,
I have an animal problem, not the soft ones, they are OK. There is an invisible bear in the house trying to eat my Daddy. This bear is quiet all day but at dark this bear sits on top of and trys to eat my Daddy and makes terrible noises doing it. My Daddy is sleeping so he can't see the bear How do I warn my Daddy to wake up?
Signed,
Frantic about Furry
Dear Frantic,
There are loads of bears going after our daddys (and some mommys) because I hear this problem every day. Everybody out there: Stay Calm! Your daddy is safe. The older kids have told me that sometimes when they sleep with mommy after the bear attacks (bold, brazen thing!) But, the mommy will then push the daddy. This scares the bear because he then stops growling for about one hour. If he starts again, the mommy keeps pushing till the daddy awake until day. So your daddy is safe. Same rule for attack mommy bears. Rest easy and do not turn to candy to stay awake.
Ooh I see something that I can reach and I do not know what it is but I am going to try to eat it!
Bye-Bye,
Katie