GOINGS ON
Congratulations to Kim and Dan Kavanuagh on the arrival of their second little girl. Tara Danielle was born December 15th and was 8 pounds 14 ounces.
Thanks for the Oven Mitt to Aunt Mary. I haven't tried the Mandarin Orange Salad but I will. Please keep up the good work with the news items, they are most appreciated.
Lloyd Jr. visited Kitty Hawk, NC on his birthday this year and got some nice shots of the memorial as well as this picture of his own plane in the foreground and the monument if the rear.
Sister Mary Danial Schroeder recently commemorated 50 years in religious life. Sister Mary is an Easton native and currently is the director of music at St. John Pansh is Bushkill, PA.
For the out of towners, starting January 8, the area code for the Northhampton County will change from 215 to 610.
I've heard a rumor but nothing has been confirmed that John, Betsy Flaherty and family may be moving to the Raleigh, NC area. I believe John is there already and the rest of the family will move down after the school year.
Mary Schroeder and Jack Schroeder will be busy in February visiting three Elderhostels in Texas. Stay tune for more news in the next newsletter.
Last but not least we are expecting more than fire works this fourth of July. Dan and I and family are expecting our third child 7l4l94.
What did Jeffrey Dalmar ask Lorena Bobbit? Are you going to eat that?
Congratulations to David Schroeder for his fine job successfully representing John Wayne Bobbit at his trial in August.
A SNEAK PEEK AT DAN K.
Dan Kavanaugh, a commissioned officer in the United States Public Health Service (USPHS), was promoted to Lieutenant, July 1, 1993. Dan is a clinical social worker stationed at the National Cancer Institute in Bethesda, MD. During the past year he was also named to the PHS Disaster Medical Assistance Team. The PHS team is called into action during national disasters to provide medical assistance to affected communities. Dan's role is to provide and coordinate mental health services. As a side note, Dan is also bust on stage with two theater groups in Maryland - the Colonial Players in Annapolis and the Bowie Community Theater in Bowie, MD.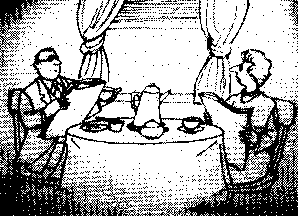 "Pass the cream or I'll cut off your penis"