An Oldster's Lament
How do I know that my youth is all spent?
Well, my get up and go has got up and went.
But in spite of it all I'm able to grin.
When I think of where my get-up has been.
Old age is golden so I've heard it said,
But sometimes I wonder as I get into bed,
With my ears in a drawer and my teeth in a cup
My eyes on a table until I wake up.
Ere sleeping dims my eyes I say to myself
"Is there anything else I should have laid on the shelf?"
I'm happy to say as I close the door
My friends are the same - only perhaps even more.
When I was young my slippers were red,
I could kick up my heels right over my head,
When I grew older my slippers were blue
But I could still dance the whole night through.
Now I'm old, my slippers are black
I walk to the store and I puff my way back.
The reason l know that my youth is all spent
Is my get-up and go has got up and went.
But l really don't mind when I think with a grin
Of all the grand places my get-up has been.
Since I have retired from life's competition
I bust myself wgth complete repitition.
I get up each morning, dust off my wits,
Pick up the paper and read the "Obits."
If my name is missing I know I'm not dead
So I eat a good breakfast, and go back to bed.
Recipe Section
SOAP BUBBLES
1/2 cup Joy or Dawn detergent
2 tbsp glycerine
4 cups water
It was a dark and rainy evening in October on the Delaware in Carpentersville, NJ. Andrew Foss and Ervin Jones were sitting in their boat and all was still. Using only trout as bait the next thing Andy knew was he had something. He didn't know what it was but he could tell it was BIG. And BIG is was, a 161b, 29 1/2 inch round catfish. The fish was BIG, so BIG in fact that it won Andy the State Angler's Award. So for those of you always interested in a good fish story ask Andy about it at the reunion.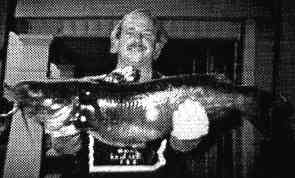 Andy Foss displays 161bs, 29.5 inches of fish
Quiltus Maximus Here's an idea for next years family reunion and we could continue to do it for years after also. I read it in an article Uncle Jack gave me. How about a family quilt. Each year each family brings a quilt square or two to the reunion then someone will put the quilt together over the year and it will be the grand prize in the 50/50 drawing or as a door prize. I really like he idea! Anybody else?