---
---
Reunion: August 14

The SCHROEDER FAMILY REUNION is still set for the second Saturday in August, that being the 14th. And luckily this year there won't be any conflict with the CHB reunion, so we should have a lot of happy campers.

Due to the overwhelming response to the reunion activity ideas, the activities committee has had to make some tough decisions as to what ideas to keep and what ideas not to use this year. Of course, there is nothing set in stone but the preliminary lineup looks something like this:

12:00pm Set up, greetings, drinks, etc.
1 00pm Swimming, visiting, drinks. etc.
2:00pm White elephant auction - bring a small white elephant gift or two (wrapped please) with an indication of who the gift is appropriate for, i.e. young boy, female, husband, etc. These will then be auctioned off with the proceeds going to the 50/50 drawing.*
3:00pm Door Prizes awarded!*
3:30pm Q&A Game (tentatively).*
4:00pm Kids stuff, more swimming, drinks, volleyball, etc.
5:00pm Dinner and drinks. 50/50 drawing.
5:30pm Talent show for those 16 and younger. So kids brush up on those Barney songs and Lamb Chop jokes.*
6:00pm More drinks and picture taking.
*Drinks will be served during these events as well.

If anyone has additional ideas, questions, comments please feel free to write, fax, phone them over to me. Activity assignments will be handed out in the next newsletter.

Goings Ons

Dan & Kim Kavanaugh are expecting a second! Kim's due date - December 11th. That's the third family addition anticipated this year for the Karl clan. Two grandchildren and a son-in-law!

She's a Yankee Doodle Sweetheart! Congratulations to Cora Foss for passing her citizenship test. The swearing in ceremonies scheduled for June 29th in theEaston area.

Karl and Jean visit Japan for the fourth time. Ask for details when you see the. Way to Sushi!

Jennifer Foss graduates with a Masters Degree, May 29th. She'll be in the P'Burg/Easton area this summer while she intensifies her job search.

SHAMELESS PLUG-OF -THE -MONTH:

DISCOVER ME!!...I (Caroline Foss Smith) have just signed up to be an Educational Consultant for Discovery Toys, which means I sell them. These are high quality toys that are educational, as well as, FUN. I do in home demonstrations or what have you. If you are interested in hosting a demonstration/party and earning FREE toys for you and yours, let me know.
| | |
| --- | --- |
| SCHROEDER FAMILY NEWS | PAGE 1 |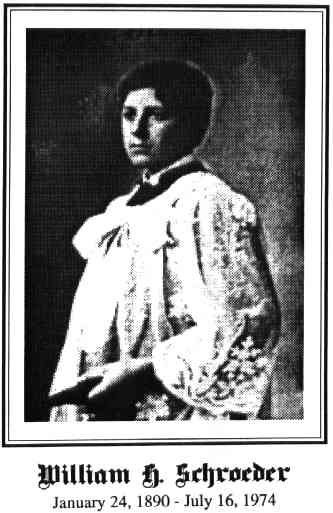 Pappap
William H. Schroeder
This picture was taken between 1905 and 1907. William/Bill/dad/pappap was a versatile man who was also practical and level-headed. He is well remembered for his ability to fix anything, his innovative Halloween costumes, Christmas platforms and water carnival decorations. His skills included, carpentry, woodworking, plumbing, electrician, hunting (gun & slingshot) fishing, gardening, making jigsaw puzzles, rock gardens and terrariums.
He enjoyed kite flying, rock gardens, ice skating, plants and flowers, gathering nuts, boozing, dancing,paker playing and smoking (1 1/2packs/day of camels for 35 years). His employment included Ingersoll(West Easton), Dye House, Kleinhans Florist, Lehigh Valley Railroad and the Easton Printing Co. He and his wife had nine children who collectively have 30 grandchildren and approximately 30-35 great grandchildren.
---
Karl & Jean Celebrate 40 years together!!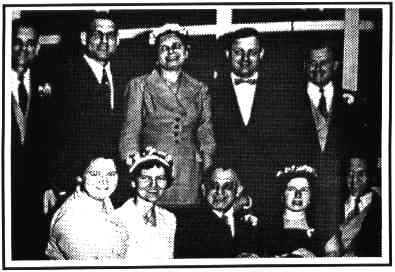 There've been 40 years of marriage bliss,
All started with a single kiss.
Through times of joy and sorrow too,
They loved each other through and through.
You could see it as they danced their dance,
Through a simple gesture, or simple glance.
Our wish for them is many more,
As least as happy as those before.

| | |
| --- | --- |
| SCHROEDER FAMILY NEWS | PAGE 2 |

Loves me,
Loves me not

WHO'S AVAILABLE
How's your love life...Heidi Bamford, Pat Lou Schroeder, Tom Schroeder, Jr., Stephanie Sheck, Lloyd Foss, Jr., John Schroeder, Jr., Jennifer Foss.

WHO'S NOT
Linda Walsh will be tying the knot this December with her bow. Rachel Dumont's been steady with hers for over a year now. John Sutton, its been three with your sweetheart, what's the word. David Schroeder can't seem to decide between two, who should be so lucky? And Uncle Bill, you're still single, are't you?

Schroeder Hints
If you own a freshwater fishtank,instead of throwing p out the water when cleaning, use it to water the plants. It's a great fertilizer.

Getting tinted lenses in your glasses can cover a multitude of "sins," not to mention wrinkles.

You can keep track of the age of spices by marking the date of purchase on a strip of masking tape and sticking it to the bottom of the container. .

"Wisdom"
Marriage:
The happy state which resembles a pair of shears; so joined that they cannot be separated; often moving in opposite directions, yet always punishing anyone who comes between them.

Happy Birthday 2U!


JUNES DATES
Nancy Schroeder...........06-01-34
Patrick Schroeder.........06-01-87
Stephanie Sheck...........06-03-72
Diane Schroeder...........06-05-54
Casey Unangst.............06-07-79
Alyssa Schroeder..........06-17-87
David Schroeder...........06-22-62

JULY DATES
Carolyn Foss..............07-02-31
Sean Walsh................07-05-84
Jack Weighorst............07-08-40
Tylor Foss................07-08-88
Virginia Sutton...........07-14-16
Bill Schroeder............07-16-18
Kim Kavanaugh.............07-20-63
John Schroeder Sr.........07-22-20
Rose Ann Allen............07-23-83
Drew Schroeder............07-27-84
Cliff Sutton..............07-28-17
Beth Ann Flaherty ........07-29-83

AUGUST DATES
Steve Schroeder...........08-11-56
Joan Bamford .............08-12-37
Cora Foss ................08-14-61
John Sutton...............08-15-62
Peggy Wieghorst ..........08-18-48
Jean Schroeder............08-22-60
Betsy Flaherty............08-28-49

Hey, send me some news, photos and stuff!
SCHROEDER FAMILY NEWS
Beam me up, Scottie

PAGE 3

Back to the Schroeder Reunion Newsletter Archives Index
Back to the Schroeder Reunion Home Page

Created on Aug 1, 1996 by Lloyd Foss,Jr
Last Modifed on Tuesday June 19, 2001 by Lloyd Foss, Jr.
Send Comments to schroeder@lfoss.com
Contents Copyright © 1993 by Caroline Smith
Web Page Layout & Design Copyright © 1996, 1998, 2001 by Lloyd Foss, Jr.