A New Look
The Executive Committee has appointed me, Caroline Foss SMITH, to be Temporary Editor of the SCHROEDER FAMILY REUNION NEWS BULLETIN commencing with this issue and continuing until this year's Reunion (August 1 4th). At that time the membership will be polled to determine whether or not the foregoing appointment was suitable and whether or not the News Bulletin is still worthwhile. It is a pleasure to serve as the temporary editor of our newsletter. For this issue I sent a copy only to the nine brothers/sisters, aunts/uncles, (however you look at it) and asked them to pass it on to their family members. For anyone who would like to receive the newsletter directly, please forward me a note with a correct address enclosed. I would be happy to send the newsletter to anyone interested but would also like to receive news from the people who receive it. I would like to send out a newsletter every other month if possible. Do we have that much news? Well, your comments and news are welcome.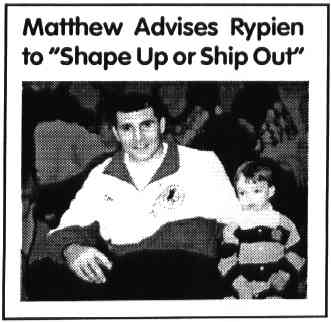 Happy Birthday!!
APRIL DATES
Karl Schroeder............04-03-27
Courtney Burnette.........04-04-83
Rachel Dumon..............04-07-49
Christopher FOSS..........04-21-90
Robert Schroeder..........04-23-72
Tom Schroeder Sr..........04-28-35
John Flaherty.............04-28-82
MAY DATES
Margaret Talbert..........05-01-84
Wendy Schroeder...........05-06-54
Tom SchroederJr...........05-07-60
Mary Bamford..............05-08-67
Trevor Schroeder..........05-17-90
Chris Schroeder...........05-19-49
Adam Schroeder............05-30-87
JUNE DATES

Nancy Schroeder........06-01-34
Patrick Schroeder......06-01-87
Stephanie Sheck........06-03-72
Diane Schroeder .......06-05-64
Casey Unangst..........06-07-79
Alyssa Schroeder.......06-17-87
David Schroeder .......06-22-62
Schroeder Remedies
TO INDUCE SLEEP Mix 2 teaspoons apple cider vinegar with 1 cup of dark honey (store in wide-mouth jar) - take 2 teaspoons of mix at bedtime. If not asleep in 1 hour, take 2 more teaspoons of mix...then sleep.
TO LOSE WEIGHT 2 Tablespoons of apple cider vinegar in a glass of water each day. Sip at every meal.
CASTOR OIL rubbed onto warts, moles or liver spots will eventually remove same.
Wisdom
The other day, while 5 year old Jessica Foss was sewing with her grandmother, she said "We're just two old grandmothers sitting around sewing aren't we Gram." Then she asked her grandmother to tie another piece of yam to the end of her thread. Her grandmother asked "Why don't you start a new piece so you won't have a knot in your yam." Jessica answered, "That's OK grandma, sometimes I~just lump along and sometimes I just smooth along." To that her grandmother replied, "Don't we all, Don't we all."